Arcomagno Beach and Dino Island are among the most picturesque places on the Cedar Coast. Here, coves, small beaches and hidden caves manage to provide memorable scenery and panoramas and are easily reached thanks to boat excursions that allow you to skirt the coastline and dive into the crystal-clear waters. The special idea of Minicrociere Galatea is to offer not only the typical tourist excursion, but also moments of relaxation, fun and knowledge of the nature and history of the places visited.
During the boat trip, we will visit Dino Island and approach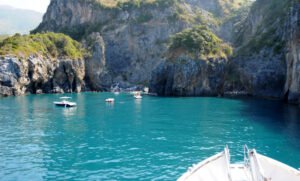 to its caves: the Grotta Azzurra (Blue Grotto) named for its special waters and the Grotta del Leone (Lion's Grotto), which takes its name from a rock at the bottom of the grotto that looks like a lion lying down with its head raised. We will walk along the pediment of the island, the western part of the island.
Moving to the north side of the island, you will notice numerous inlets, among which is the suggestive Grotta del Monaco, where you can admire what the water has been able to imprint on the rock over time; all this topped by dense vegetation made up of holm oaks, myrtle, small dwarf palms and pretty palinuri primroses.
No less important and equally fascinating will be the Grotta del Frontone, the Grotta Lunga and the Sacristy.
Navigation continues towards the coast of San Nicola Arcella to admire the Arcomagno, a popular destination for its majestic arch framing a fairytale bay
the natural harbour of San Nicola Arcella
Crawford Tower named after the writer Francis Marion Crawford who chose it during his long stays
Torre Dino now a B&B
the 'Zuongolo' bay
Francidormo's ear
Punta Dino and Carpino Bay, the border between San Nicola Arcella and Scalea.
Daily departures: from San Nicola Arcella
Weekly departures: from Scalea and Maratea
Duration: from 2 hours
Destinations: San Nicola Arcella, Praia a Mare.
Activities: Bathroom break of about 45 minutes.
Best period: from May to September.