I Sette venti del Pollino is located in Civita (CS) - one of the most beautiful villages in Italy, situated within the Pollino National Park - and is dedicated to disseminating and enhancing the knowledge of native birds of prey through didactic and interactive trails.
Since ancient times, the world of birds of prey has exerted a great fascination on man, who, as early as medieval times, practised the ancient practice of falconry, centred on the close relationship between man and bird of prey.
The Seven Winds of Pollino is not a hunting association and does not provide shows with animals, but - operating with the utmost respect for the local fauna - organises engaging and interactive itineraries in which you can discover the secrets, techniques and traditions that have made falconry a UNESCO World Heritage Site.
The route organised by the Seven Winds is not demanding, requiring the use of comfortable shoes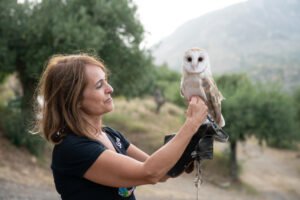 suitable for hiking, and takes place on an itinerary suitable for everyone. The route covers about 500 metres of comfortable walk along the Pollino trails and during the walk it will be possible to learn many curiosities and information related to the life and evolution of birds of prey, almost fairytale-like creatures that have always been present in the stories and legends of leaders and illustrious rulers. Furthermore, falconry offers adults and children the opportunity to interact with the birds and thus establish a deep and engaging bond with the animals and this ancient art.
Those who wish to do so can end their experience with a gastronomic tasting of typical products and further deepen their knowledge of the Pollino National Park area, also discovering local flavours and culinary traditions.