In the village of Castrovillari, located in the natural reserve of the Pollino Park, you can experience horseback riding at the Pangaro Ap Horses riding school, an adventure that will allow you to explore and get to know the area, in a new and exciting way.
The routes to choose from vary in terms of duration and difficulty. They are designed both for experts and for those who have never ridden a horse, but wish to experience the infinite number of sensations that this sport can offer. Thanks to pleasant itineraries, horse riding excursions will become an accessible experience open to all, to be enjoyed in total relaxation and safety. In addition, the facility employs a professional and qualified staff that will accompany you in the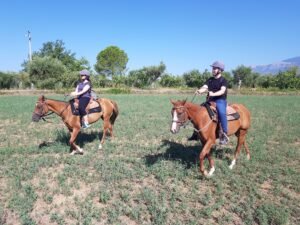 world of horse riding and let you experience a dimension rich in technical and psychological stimuli that allow a special connection with the surrounding nature and a total harmony with your horse. In the saddle of your horses, you will discover the wild scenery of the Pollino, cross crystal-clear streams and ride along trails in the shade of rich, unspoilt vegetation that offers special colours and atmospheres in every season.
Each excursion is led by qualified technicians, and those who wish can take interesting western riding lessons with horses and qualified instructors.